Austin's first major league team set to expand reach with new collaborative sports complex The Pitch, an Austin FC destination packed with local food, drink and green fervor set to open in the Northeast from Austin in February.
---
The Pitch, a collaboration between Austin FC and Karlin Real Estate, among other entities, will be located in the 50-acre Parmer Pond district, which already hosts the club's St. David's Performance Center training facility.
Dubbed a "true destination" for football fans and the community, The Pitch will consist of multi-level shipping containers designed by Mark Odom Studio that will transform into a 1,200-seater stadium with a grass football pitch, food and beverage options and a five-acre "Parmer Pond" with jogging trails.
Made from tiered shipping containers, The Pitch will include food and a 1,200-seater artificial turf football pitch. (Field)
"The launch of Karlin's new dining and entertainment experience will significantly enhance Parmer's development while perfectly complementing St. David's Performance Center," said Austin FC Founder Anthony Precourt. "The Pitch…will provide a wide variety of dining options and gathering spaces for guests who will use St. David's Performance Center and Parmer Field for a variety of events."
Pitch project manager Dave Greeley, who helped develop the concept, is a former president of Austin FC's parent company, Two Oak Ventures.
"The vision behind The Pitch in the Parmer Pond District is to be a one-of-a-kind sports, dining and entertainment destination," said Dave Greeley, The Pitch Project Manager and President of Team Orbis. "It will be an unparalleled experience for Parmer Austin tenants, Austin FC and club supporters, as well as the community."
With its proximity to the training facility, the company hopes to help grow the "soccer city" of Austin during Austin FC games and youth games with the Austin FC Academy hosted at St. David's Performance Center.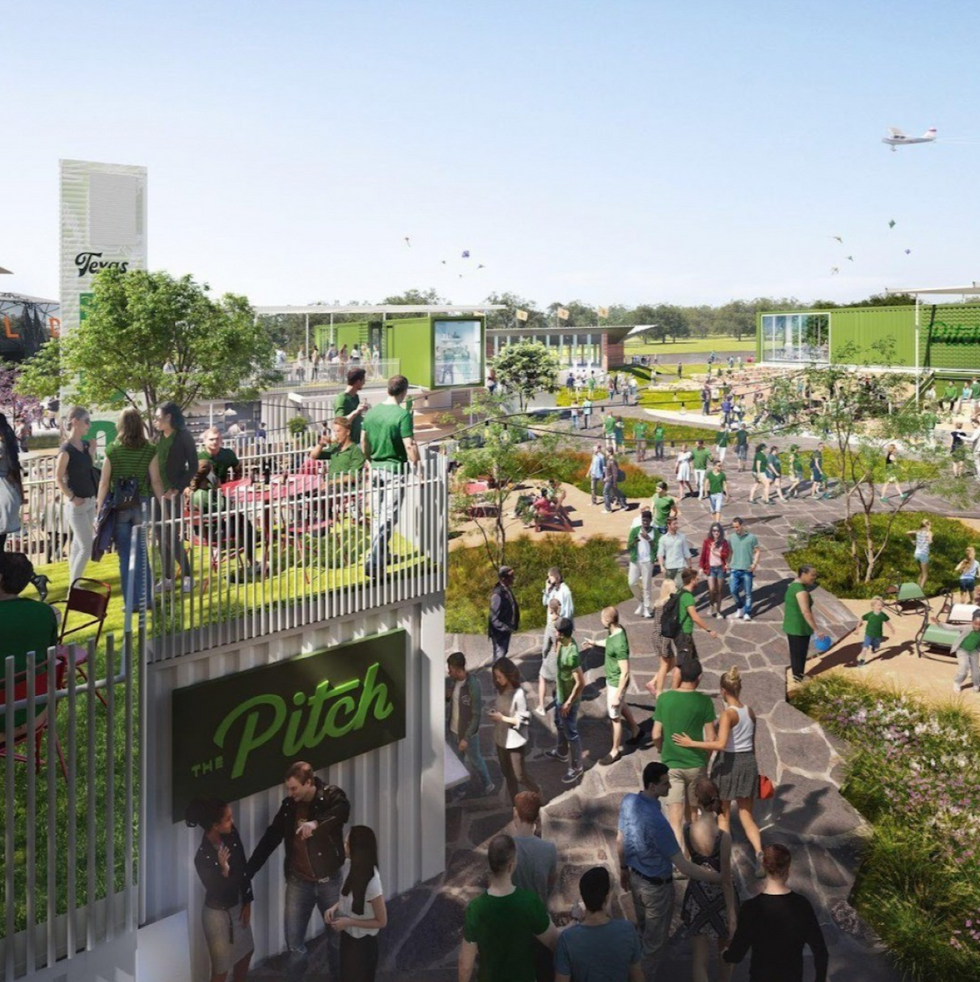 The Pitch hopes to align community and club interests with Austin FC. (Field)
In addition to the football field, stadium and pond, The Pitch will feature a dining experience curated by the creative team behind Austin must-haves like Fareground and Easy Tiger. The complex will offer local bites including:
Ranger Burger, which offers beers and burgers made with coveted Wagyu beef straight from Ranger Cattle in East Austin
Ga Rotiwhich fuses the flavors of northern Vietnam with the culinary techniques of France to create a unique roast chicken
taco flats, a local taco chain serving Mexican-style tacos, micheladas and more
sandbar, which fills its namesake with beauty cocktails, local beers and a beach volleyball court
coffee club, cafe and bakery
corner kick bar, The Pitch's football-focused main bar with "music, TVs and (a) beer garden"
The land will weave between St. David's Performance Center and Parmer Pond, along the southern edge of Parmer Austin, a Karlin real estate venture that will eventually include multi-family housing, corporate offices and an aerospace and defense center .
From articles on your site
Related articles on the web