[ad_1]
According to the latest consumer research, audiences are fast approaching the number of digital entertainment subscriptions they can manage to get the content they want.
Deloitte has published the 10th edition of its Media consumer survey of 2,000 people, exploring the preferences of the Australian public.
On average, people already estimate that they spend around 10% over their monthly subscription budget.
More than two-thirds (71%) said they canceled a service before and more than a quarter (27%) abandoned an entertainment subscription before joining the same again.

Leora Nevezie, national media industry leader and Deloitte partner, says subscriptions are no longer a good thing, they are almost a public service.
Four in five (nearly 80%) of survey respondents pay for at least one digital entertainment subscription with an average monthly spend per household of $ 55.
The media and entertainment industry has seen a huge digital acceleration over the past 18 months amid blockages and progressive restrictions, with the public seeking remotes, laptops, tablets and phones as a source of critical information and a welcome distraction.
Many (42%) have more subscription services than a year ago, and 70% have pay TV / movies in the household, up from 55% last year.
Almost all (95%) Gen Z have at least one paid digital entertainment subscription service, followed closely by 93% of Millennials, and 60% of Gen Z and Millennials having more subscriptions now that they are. a year ago.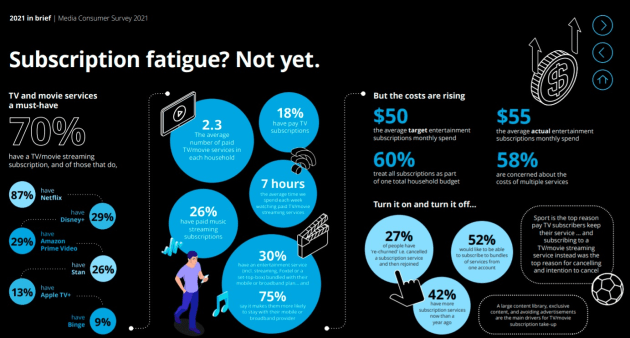 "We are well and truly in the era of entertainment subscription – but how many can we get before experience and our budget?" Says Névezie.
The management and consumption of several services becomes complex and expensive. The race is on to pave the way for the public experience, says Nevezie.
The average household spends 10% more on subscriptions than their target budget and 58% say they are concerned about the rising costs of multiple subscriptions.
Two in three respondents want to find and discover all content in one place, and more than half want to be able to subscribe to bundles of services in one place.
Nevezie says audience experience will be the next battleground, with aggregation and entertainment ecosystems taking center stage and a shift from seeking new subscribers to focus on managing the value of the business. 'hearing.
Pay-TV providers, telecom operators and digital giants all have a potential role in aggregation solutions.
"Along with this aggregation, there is a trend towards consolidation – entertainment providers consolidate and converge their products and services to create entertainment ecosystems where audiences can move between content and services that are both free and paid, and with multiple revenue models, "says Nevezie.
Do you have something to say about this? Share your perspective in the comments section below. Or if you have any news or information, drop us a line at [email protected]
Subscribe to the AdNews newsletter, like us on Facebook or follow us on Twitter to smash stories and campaigns throughout the day.

[ad_2]