YouTube is great for streaming music and watching fun home videos, but it can also be your primary source for organized online media and offline music. Here's how to unlock the true power of YouTube and use it for more than cat videos.
Create and organize your playlists
The basis for unleashing the power of YouTube is having an organized system of playlists. We've all watched a video and struggled to find it later to watch again or show it to friends. With Playlists, you can save all your favorite videos and create music playlists to listen to. Here are the steps to create a playlist on your browser:
Click the menu button to the left of the YouTube logo at the top of the page.

Click on "Playlists".

Click "New Playlist", add a title and select your privacy preferences before clicking "Create".
Now create all the playlists you think you need and tag them according to the types of videos you watch. For example: I separate my music by style and genre to make videos easier to find, but I also have music playlists that can just be played when I complete a specific task like work or exercise. There is "Acoustic", "A'capella", "Yoga Music" and so on. Movies and TV shows each have their own playlists, and I make up the names of other playlists as I go, like "Funny Stuff", "TED Talks", "Game Tutorials", etc. . Once you've set up your playlists based on the videos you browse and watch on YouTube, you can then start building your media collection.
Build your media collection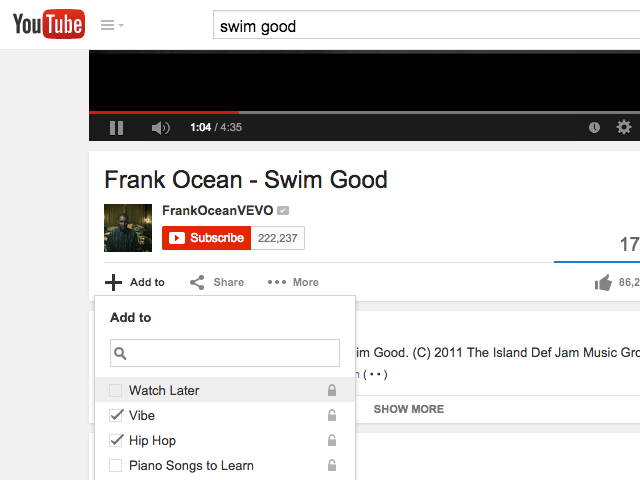 It's easy to build your media collection by adding videos to your playlists whenever you come across one you like or find something you've been actively looking for.
Your YouTube account comes with a "Liked Videos" playlist. You can treat it like an Evernote "Inbox" folder, so every video you nudge will be saved in that playlist and you can find it later to put it in another playlist. . After placing the video in its place, you can delete it (if you wish) to keep the Liked Videos playlist fresh and clean. Plus, you have a "Watch Later" section for videos you're interested in but can't watch right now.
You can also save playlists created by other users by clicking the big "+" in the upper right corner of the playlist, and subscribe to the channels you frequent so that when you go to your home, you'll see their latest videos and never miss the newest content. of them. Then you can also organize these videos into playlists.
Get more accurate search results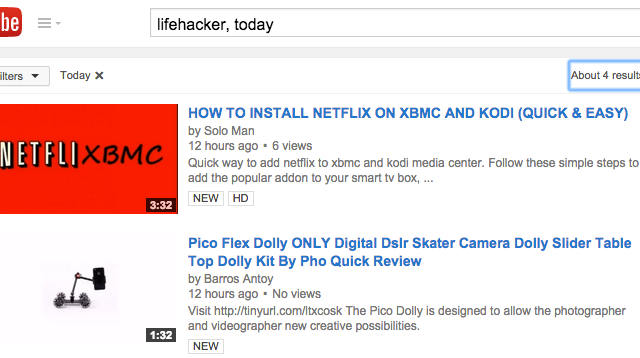 You need to know how to find the best videos to grow your collection, and YouTube's search engine is more intuitive than you might think. With just a few more words, you can narrow down your options and find the videos you're really looking for. Here are some examples:
Limit your search to recent videos by adding ", this week" or ", today" after your search query. Example: "Lifehacker, this week".

Using the word "Partner" will show official videos and no fan videos. Example: "Jimi Hendrix, partner".

Find movies without navigating to the movie channel using "movie".

Use the "allintitle" operator and quotes around your query to find an exact match. Example: allintitle: "google becomes gaga".
There are others where they come from, and they are all just as simple. Check out this article from Digital Inspiration for a full list. Use them to help simplify your searches by narrowing your search results and finding the videos you're looking for faster.
Take your music offline with Music Key
Once you've mastered your YouTube music collection, all you have to do is take it offline with Music Key. Music Key is a new service bundled with the existing Google Play All Access service (and vice versa). It brings a few new things, like downloading videos to watch offline, playing your music in the background on your mobile device, and removing YouTube ads. If you already have a Google Play All Access subscription, you now have these features, and if not, it's definitely worth considering for $11.99 per month.
YouTube has been the standard for somewhat random use, like watching videos and songs that your friends tell you about. However, if you take the initiative to create playlists and take your music offline with Music Key, you'll experience the true potential and convenience that YouTube has to offer, even if it just means you don't lose any more. the videos you really wanted to show your friends. .