NEW | FEATURES | PREVIEWS | EVENTS
originally published: 08/18/2022
(PRINCETON, NJ) — The Princeton Symphony Orchestra (PSO) Opening of the 2022-2023 season September 10-11 with the incomparable Anne Akiko Meyers performing the new violin concerto Fandango by Arturo Márquez. The work was commissioned by Ms. Meyers and premiered by her in 2021 with Gustavo Dudamel and the Los Angeles Philharmonic at the Hollywood Bowl. Another concert highlight is the PSO's American premiere of Spanish composer Marcos Fernandez's tribute to Leonard Bernstein, America. To complete the program of striking concerts, the Danzas fantasticas by Joaquín Turina, the Prelude to La Revoltosa by Ruperto Chapí and the Spanish Capriccio by Nikolai Rimsky-Korsakov.
Music Director Edward T. Cone Rossen Milanov directs both performances, which take place Saturday, September 10 at 8:00 p.m. and Sunday, September 11 at 4:00 p.m. at the historic Richardson Auditorium. Sunday's concert includes a pre-concert talk by Maestro Milanov at 3:00 p.m.
Anne Akiko Meyers is "a musical wizard, with astonishing access to all kinds of expressive colors" (San Diego Union-Tribune) who inspired great composers to write major new works for her. Highlights from this season include performances by fandango by Arturo Márquez with Gustavo Dudamel and the Los Angeles Philharmonic at Walt Disney Hall in Los Angeles, at Carnegie Hall and in Mexico City for the 50th anniversary of the Festival Internacional Cervantino; and the premiere of Michael Daugherty Electr Blue, about American icon, Amelia Earhart, at the Kennedy Center with the National Symphony Orchestra. In addition to appearances with major orchestras and in recital, Anne is one of today's most prolific artists, having released shining night, his 40th album, this year. She appeared on The Tonight Show, CBS Sunday Morning, Countdown with Keith Olbermann, Morning Edition, and Great Performances honoring John Williams. Anne performs on the legendary Ex-Vieuxtemps Guarneri del Gesù, dated 1741.
When Anne Akiko Meyers approached Arturo Marquez for a work for violin and orchestra, the composer turned to the Mexican dance tradition and wrote the three movements fandango. Marcos Fernández new job America pays homage to Leonard Bernstein and Latin American musical heritage with compositional techniques from jazz, latin, pop, flamenco and contemporary music. Joaquin Turina fantastic dances was inspired by The Orgya novel by José Más and the Prelude to La Revoltosa outlines his single act Zarzuela, or Spanish musical theatre. Nikolai Rimsky-Korsakov sought to capture the spirit of Spain with his Caprice Spanishwhich concludes the concert program.
Single tickets are now available for everyone Princeton Symphony Orchestra orchestra concerts. The season's live concerts feature other leading artists, including soprano Pretty Yende and violist Roberto Díaz, as well as established and contemporary works, including the world premiere of violinist/composer William Harvey. Gandhi's Seven Decisions. Tickets are also available for 2022 Holiday POPs!
Advertise with New Jersey Stage for $50-$100 per month, click here for more info
---
Classical concerts take place on Saturday at 8:00 p.m. and Sunday at 4:00 p.m. Subscriptions start at $180. Youth ages 5-17 get 50% off with an adult purchase. To subscribe or purchase single tickets starting at $30, visit the Princeton Symphony Orchestra website at princetonsymphony.org or call 609-497-0020.
Health and security: The Princeton Symphony Orchestra is closely monitoring and adhering to the New Jersey Department of Health's COVID-19 requirements and complying with rules established by partner sites. Concert attendees will receive information regarding security procedures, entry, seating directions, and more. before the selected show(s).
Accessibility: The Princeton Symphony Orchestra is committed to ensuring that all programs are accessible to everyone, working with venues to provide the necessary services. Online events include digital concert assets, closed captions, and transcripts where available. If you have any questions about this or if additional services are required, contact ADA Coordinator Kitanya Khateri at [email protected] or 609 497-0020. Note: Some services require at least two weeks notice to arrange.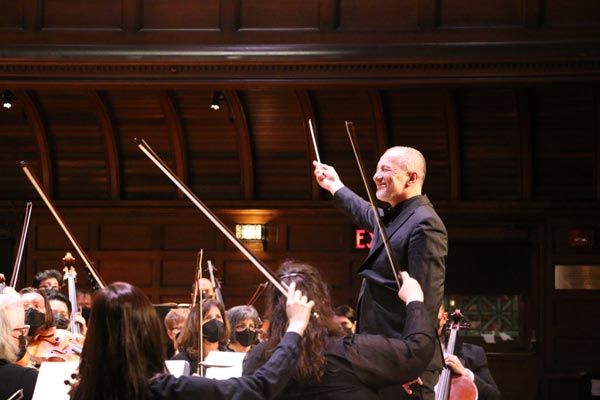 Music director of the PSO, Rossen Milanov. Photo by PSO Staff
ROSSEN MILANOV: Internationally acclaimed conductor and Music Director of the Princeton Symphony Orchestra (PSO), Edward T. Cone, Rossen Milanov, looks forward to collaborating in 2022-23 with established and emerging artists from the orchestral world and leading the the PSO's popular celebration of the performing arts in June, the Princeton Festival.
Respected and admired by audiences and musicians, he has established himself as a conductor with a considerable national and international presence. In addition to directing the PSO, Mr. Milanov is Music Director of the Columbus Symphony Orchestra, Chautauqua Symphony Orchestra and Principal Conductor of the RTV Slovenia Symphony Orchestra in Ljubljana. During his eleven-year tenure with the Philadelphia Orchestra, Milanov conducted over 200 performances. In 2015, he completed a 15-year term as Music Director of the nationally acclaimed training orchestra Symphony in C in New Jersey and in 2013, a 17-year term with the New Symphony Orchestra in his hometown. from Sofia, Bulgaria.
Mr. Milanov collaborated with Komische Oper Berlin (Shostakovich's Lady Macbeth of Mtzensk), Opera Oviedo with the Spanish premiere of Tchaikovsky mazepa and that of Bartok Bluebeard's Castle (best Spanish production 2015) and Opera Columbus (Verdi's La Traviata). He has been seen at New York City Ballet and has collaborated with choreographers such as Mats Ek, Benjamin Millepied and most recently Alexei Ratmansky in the critically acclaimed revival of Swan Lake in Zurich with the Zurich Ballet and in Paris with La Scala Ballet.
Mr. Milanov is deeply committed to music education, presenting Link Up educational projects with Carnegie Hall and the Orchestra of St. Luke's and directing the annual BRAVO! School day concerts. He was named Bulgarian Musician of the Year in 2005; he won a 2011 ASCAP Award for Adventurous Contemporary Music Programming at the PSO; and he was selected as one of New Jersey's 100 Most Influential People in 2014. In 2017, he received a Columbus Performing Arts Prize from the Columbus Foundation. He is a graduate of the Curtis Institute of Music and the Juilliard School.
---
The Princeton Symphony Orchestra (PSO) is a cultural centerpiece of the Princeton community and one of New Jersey's top musical organizations, a position established through performances of beloved masterpieces, innovative music by living composers, and an extensive network educational programs offered free of charge to students in the region. Led by Edward T. Cone Music Director, Rossen Milanov, the PSO presents orchestral, pop and chamber music programs of the highest artistic quality, supported by lectures and related events that complement the concert experience. Its flagship summer programme, the princeton party brings an array of performing arts and artists to Princeton for several weeks in June. Through PSO BRAVO!, the orchestra produces large-scale, impactful educational programs in partnership with schools and local arts organizations that culminate in students watching a live orchestral performance. The PSO receives tremendous support from the Princeton community and the New Jersey State Council on the Arts, consistently earning the NJSCA's highest honor. Recognition for residencies and engaging concerts came from the National Endowment for the Arts, and the PSO's commitment to new music was recognized with an ASCAP Award for Adventurous Programming and a Copland Fund Award. The only independent, professional orchestra to call Princeton home, the PSO performs in the historic Richardson Auditorium on the campus of Princeton University.
TOP PHOTO: Anne Akiko Meyers by David Zentz